Click here to download a printer friendly (pdf) version
CROP AND WEATHER REPORT
For the Monthly Report Ending September 16, 2020
GENERAL COMMENTS & WEATHER: The weather over the past month has been predominately dry with mostly above average temperatures. We observed one of the driest stretches in a growing season in many years that started in early August and extended into September, especially through the middle of our region. Rainfall has been limited and scattered, ranging from about 1.5 inches (Windom area) to 4.5 inches (Redwood Falls area) during the last 30 days. The effects of the lack of rainfall, which has been enhanced with very warm temperatures, could be seen in the crops on light/sandy textured soils. Soybean leaves started to turn yellow and corn leaves brown and corn husks opened up earlier than normal. Some scattered showers during the second week of September provided a little relief. Rainfall totals since March 15th are 5 to 10 inches less in 2020 than in 2019, which had totals above average. Fortunately, the early planted crops, early season moisture, and subsoil moisture has allowed the corn and soybean crop to develop and we still have above average to record yield potential in many fields throughout the region.
Daily high temperatures during the past 30 days have ranged from 48 to 92 degrees. Daily lows have ranged from 35 to 69 degrees. We experienced temperatures that rose to 5-10 degrees above average in mid-to-late August and 5-10 degrees below average the week of Labor Day. The primarily warm days, and lack of a killing frost, have been welcomed as we near the end of grain fill in both the corn and soybean crops. Growing Degree days are at 2,385 as of September 14th. This is 22 units ahead of normal. The long term average is 2,363 (SWROC). Thankfully, we have not seen a killing frost prior to the crop reaching maturity, although we did come close on September 10th.
SOYBEANS: In Minnesota, soybeans were 85% turning color, which is 2 weeks ahead of last year and 6 days above average. Soybeans were 41% dropping leaves, 11 days ahead of last year and 3 days above average. Soybean condition dropped to its lowest rating of the year to 77% good to excellent compared to the previous week's 79% (National Ag Statistics Service- Sept. 13).
The landscape is sure changing with the majority of the soybean fields now displaying shades of yellow leaves. We anticipate a couple of our clients' soybean fields could be harvested in our area within the next few days, but the majority will not be ready to combine until the last two weeks of September or early October.
CORN: The Minnesota corn crop was 45% mature, 25 days ahead of last year and 11 days ahead of average as of September 13th. Corn harvested for silage as of this same date reached 66% complete, 26 days ahead of last year and 11 days ahead of average. Corn condition dropped to 76% good to excellent, its lowest rating so far this year. (NASS-Sept.13).
Some corn has been cut for silage, but very little corn has been harvested for grain in our area as of the publication of this report. Most is now reaching full maturity (black layer). We anticipate that some growers will harvest a few fields of early maturity corn prior to the end of September, but most will hold off combining corn until soybean harvest has been completed. Because of the dry conditions previously noted, stalk quality is becoming a concern with some varieties. Producers will be monitoring these fields and combining those fields as early as they can.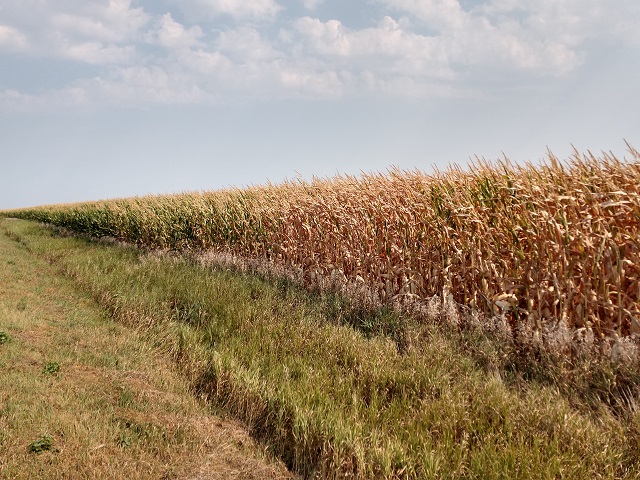 Figure 2 – Due to a lack of rain towards the end of the growing season, the corn on the right side of this photograph has begun to die. The corn on the left side of the picture is still alive due to a higher water holding capacity of the underlying soil types.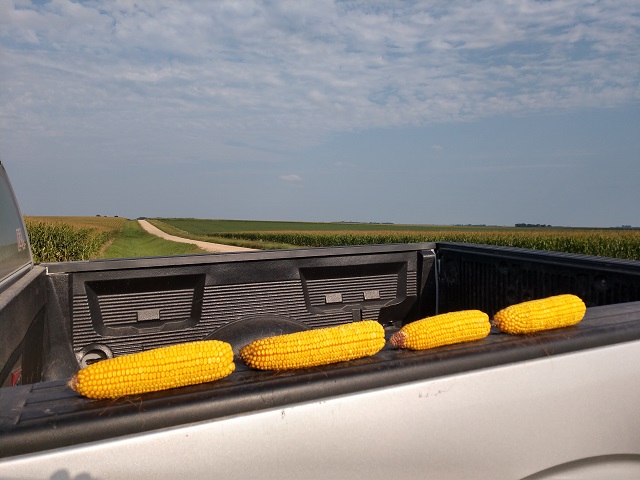 Figure 3 – Relatively consistent sized ears were found during a yield check in Rock County in late August. Field sampling and reports from corn silage harvesting suggest an above average corn crop will be harvested in a few weeks.
REMARKS: The most recent monthly USDA Supply & Demand Report with estimated yields and stocks was released on September 11th. The estimated U.S. yields did not change much from last month, but the Minnesota crop did increase by 3.0 bushels per acre for corn and 1.0 bushel per acre for soybeans from the August Report. If realized, Minnesota yields would average 200 bushels per acre for corn (this would be a record) and 52 bushels per acre for soybeans (this would match the current record of 52 bushels per acre set in 2016). However, there is more reason to expect a drop in the final yield as we approach harvest based on dryness over the last 30-45 days.
Surprisingly, we have witnessed some unexpected price support (increase) over the last 30-45 days as well. The main factors include a lack of rainfall across the Midwest and a Chinese buying spree of both soybeans and corn. This has resulted in an increase of approximately $0.60 per bushel for corn and $1.25 per bushel for soybeans over the last month. The current supply driven bull market may not last, so we have been taking advantage of the bull market by selling both new crop corn and soybeans.
The Federal Wildfire, Hurricane, Indemnity Plus (WHIP+) Program was established to provide assistance to producers that experienced a decrease in quantity and/or quality in the 2018 and 2019 crops in counties that were declared Presidential Emergency Disaster Declaration areas due to natural disasters including hurricanes, floods, tornadoes, typhoons, volcanic activity, snowstorms, wildfires, excessive moisture, and drought. The program is meant to fill the gap between crop insurance guarantees and guaranteed proven yields on farms. We have been submitting claims with appropriate evidence on eligible farms. Payment rates are not known at this time.
Other odds and ends we have been tending to prior to the busy harvest season include updating proven farm yields with the Farm Service Agency (FSA) for the Price Loss Coverage (PLC) program, processing Conservation Reserve Program (CRP) paperwork, and processing the balance (20%) of the Coronavirus Food Assistance Program (CFAP) payments, which were recently deposited into our client's farm accounts.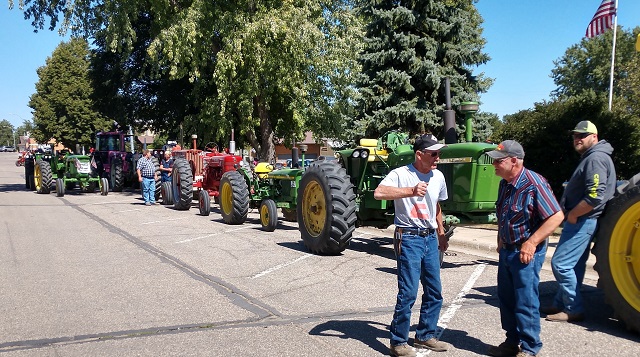 Figure 4 – An organized "tractor ride" stopped in Lismore for lunch at a park. Although there are no hard rules, generally it is frowned upon if a participant enters a tractor new enough to have a cab. The events draw owners from a radius of 120+ miles all willing to transport their prized tractor for bragging rights and a chance to mingle and talk about the good ole days and the condition of the current crop.
Growing-Degree Days
May 1, 2020 to DATE INDICATED
TOTAL GROWING DEGREE DAYS
DEPARTURE FROM NORMAL
LOCATION
Lamberton
September 14-2020
2385
+22
Corn Growing Degree Days are calculated by subtracting a 50 degree base temperature from the average of the maximum and minimum temperature for the day. The daily maximum is limited to 86 degrees and the minimum is 50 degrees.
Grain Markets (September 15, 2020)
| | | | | |
| --- | --- | --- | --- | --- |
| | New Vision-Windom | Magnolia | POET Ethanol-Bingham Lake | Minnesota Soybean Processors- Brewster |
| Cash-Corn | 3.26 | 3.19 | 3.19 | N/A |
| Cash-Soybeans | 9.29 | 9.19 | N/A | 9.56 |
| October 2020-Corn | 3.36 | 3.25 | 3.43 | N/A |
| October 2020-Soybeans | 9.33 | 9.26 | N/A | 9.41 |
Rainfall (Inches):
| | | | | |
| --- | --- | --- | --- | --- |
| County | City | August 13-September 15- 2020 | March 15 to date-2020 | March 15 to date-2019 |
| Cottonwood | Jeffers | 2.10 | 18.10 | 27.01 |
| Cottonwood | Windom | 1.60 | 15.80 | 26.02 |
| Jackson | Heron Lake | 2.00 | 18.70 | 24.98 |
| Jackson | Jackson | 2.50 | 18.10 | 22.64 |
| Martin | Trimont | 2.90 | 19.20 | 23.97 |
| Murray | Fulda | 1.80 | 19.30 | 26.01 |
| Murray | Slayton | 2.40 | 20.70 | 26.95 |
| Nobles | Round Lake | 1.70 | 16.20 | 24.64 |
| Nobles | Rushmore | 1.80 | 17.20 | 27.01 |
| Redwood | Redwood Falls | 4.40 | 20.70 | 26.99 |
| Rock | Magnolia | 1.70 | 16.60 | 26.54 |
Steven J. Hiniker
Farm Management Advisor
Real Estate Salesperson
Klay D. Walinga
Vice President
Manager, Farm Services Department
Real Estate Broker
Accredited Farm Manager