Click here to download a printer friendly (pdf) version
CROP AND WEATHER REPORT
For the Monthly Report Ending June 24, 2020
GENERAL COMMENTS & WEATHER: Crop conditions in Southwestern Minnesota are excellent. Unlike the past couple of years, we were able to get the crop planted into almost perfect conditions in April and early May. We observed some below average temperatures through much of the month of May, but it has been above average through most of June. We have observed some windy days and have received timely rains to provide an environment in which the crop continues to develop nicely.
From May 15th – June 22nd, daytime high temperatures has ranged from 70 to 99 degrees with overnight low temperatures from 40 to 76 degrees. Through June 22nd, we have recorded 746 Growing Degree Day (GDD) units, which is slightly above the historical average of 728 GDD units. At this date last year, we were at 637 GDD units. (University of Minnesota Southwest Research and Outreach Center-SWROC-Lamberton.).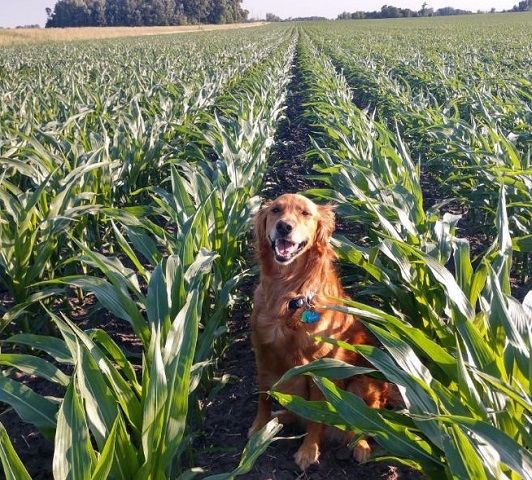 Figure 1 – The corn is already "knee high" and even higher for others.
We have not received the amount of precipitation that we did during the past two years up to this point. Timely showers have been the key this season. To date, crops on the lighter soils are still performing well. Top soil moisture levels are currently rated at 90% adequate to surplus in Minnesota. Subsoil moisture is rated at 92% adequate to surplus. Available subsurface water, held in soil particles for use by the crop, is 6.37 inches as of June 15th. This compares to the historical average of 6.77 inches. (SWROC-Lamberton)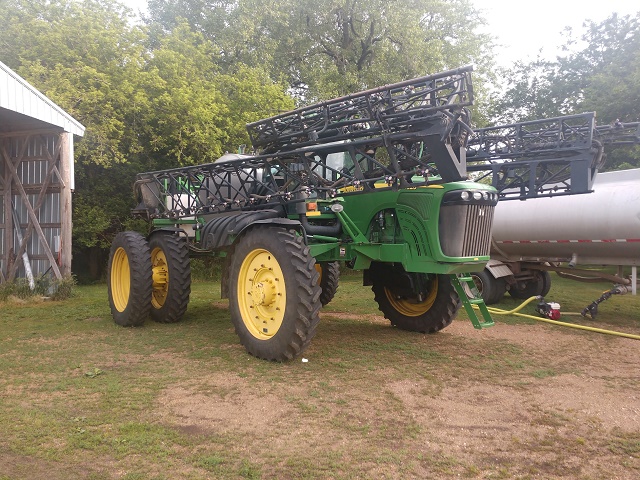 Figure 2 – This is a picture of a John Deere sprayer reloading herbicide while spraying soybeans. Notice the water tanker in the background. When loaded, the sprayer can do about sixty acres per load so having a large water supply adds to the efficiency and speed of the operation.
SOYBEANS: Most soybeans were planted by the first week of May and had emerged by Memorial Day. Soybeans are currently in the V2 to V3 stage of development. We have experienced some pretty windy days in June. This has impacted our ability to complete a second application of herbicide in the soybeans. Consequently, we are seeing increasing weed pressure on many farms throughout Southwestern Minnesota. There was much confusion and challenges surrounding the use of dicamba herbicide this month. A Federal Court in California banned the use of these products in early June, technically making it illegal to apply them. After much back and forth, Minnesota producers were able to apply dicamba if they had already purchased the product and had it in their possession. While dicamba is an effective tool for weed control, it had too many issues with drift and I doubt we will see it next year.
The United States Department of Agriculture (USDA) has reported that the Minnesota soybean crop is currently rated at 81% good to excellent and nationally at 70% good to excellent.
CORN: As of this writing, the corn crop has gotten its roots into the nitrogen and is a beautiful shade of dark green. The crop is growing rapidly and shows above average yield potential. All herbicide application is now complete and the next operations in the corn will be harvest activity.
Nationally, the corn crop condition is rated 72% good to excellent. We are rated at 85% in Minnesota. This compares to 59% in 2019 and 76% on a five-year average for Minnesota.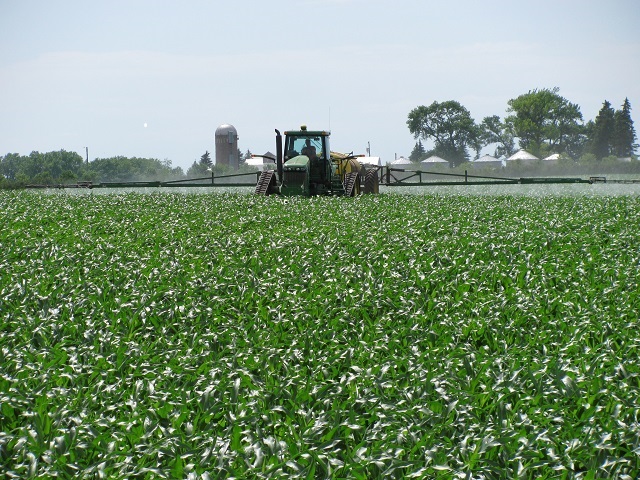 Figure 3 – Spraying corn with a pull-type sprayer, 120 foot boom width.
REMARKS: As we explained in detail in the June Quarterly Crop and Weather Report (that most of our clients have recently received provides information about their specific farms), the agricultural economy has been dealing with many adverse market conditions. The effects of the Covid-19 pandemic are still being felt with no clear understanding of what the future holds. While we are seeing some recovery in the livestock and ethanol industries, demand for corn is still a concern. Lower demand and high production will continue to translate to lower cash crop prices.
The USDA Monthly Supply and Demand was released on June 11th. The report forecasted that U.S. producers will plant 97 million acres of corn in 2020, with yields estimated to be 178.5 bushels an acre. This translates to a total production figure of 15.995 billion bushels. Ending stocks (remaining inventory) were pegged at 3.323 million bushels, up from May's projection of 3.318 billion bushels. If this comes to fruition, it would certainly be a bearish situation in the corn markets.
The price outlook is a little more positive in the soybean markets. Soybean planted acres are estimated at 83.5 million acres with a yield of 49.8 bushels per acre. This will result in a production total of 4.125 million bushels. However, ending stocks of soybeans were lowered to 395 million bushels, a decrease of 10 million bushels. This reduction was due to an increased crush projection.
The current factors influencing daily commodity prices include news related to impacts of COVID-19 on the U.S. & world economies, implementation of Phase One of the trade deal with China, and weather amongst others. It appears there is more upside to soybean prices relative to corn for the near future. We will look for any opportunities to market our clients' grain.
We are beginning to receive and process our clients' payments through the Coronavirus Food Assistance Program (CFAP). The CFAP program pays producers a payment on the lesser of 50 percent of the corn and soybeans or the unpriced inventory as of 1/15/2020. Please reference the June 2020 Quarterly Crop Report for additional information on the CFAP program. The Conservation Reserve Program (CRP) and Conservation Reserve Enhancement Program (CREP) are continuing to become a bigger part of the management services that we provide. We are busy with maintenance of properties per requirements by the Farm Service Agency (FSA), as well as a few last new re-enrollments. Working with the FSA has been a bit more challenging this year with the Covid-19 restrictions that are currently in place, but they have been doing their best to keep administering all of these programs.
As of this report, your tenants have been busy with field operations such as spraying, rock picking and side dressing nitrogen. We are completing 2020 farm program enrollment and acreage certifications with the FSA and crop insurance. We continue to scout your fields for weed and insect infestations. We have completed a fair amount of tile related projects and repairs. We are involved with a few wetland restoration projects as well. We continue to assist clients with property divisions, estates, and setting up Trusts. It has certainly been a busy year so far and we look forward to wrapping up some lingering projects yet this summer!
Growing-Degree Days
May 1, 2020 to DATE INDICATED
TOTAL GROWING DEGREE DAYS
DEPARTURE FROM NORMAL
LOCATION
Lamberton
June 22-2020
746
+16
Corn Growing Degree Days are calculated by subtracting a 50 degree base temperature from the average of the maximum and minimum temperature for the day. The daily maximum is limited to 86 degrees and the minimum is 50 degrees.
Grain Markets (June 23, 2020)
| | | | | |
| --- | --- | --- | --- | --- |
| | New Vision-Windom | Magnolia | POET Ethanol-Bingham Lake | Minnesota Soybean Processors- Brewster |
| Cash-Corn | 2.92 | 2.89 | 2.95 | N/A |
| Cash-Soybeans | 8.11 | 8.07 | N/A | 8.32 |
| October 2020-Corn | 2.87 | 2.86 | 2.97 | N/A |
| October 2020-Soybeans | 7.93 | 7.95 | N/A | 8.04 |
Rainfall (Inches):
| | | | | |
| --- | --- | --- | --- | --- |
| County | City | May 13-June 23- 2020 | March 15 to date-2020 | March 15 to date-2019 |
| Cottonwood | Jeffers | 4.97 | 7.80 | 11.50 |
| Cottonwood | Windom | 5.74 | 8.10 | 11.78 |
| Jackson | Heron Lake | 7.31 | 9.76 | 12.49 |
| Jackson | Jackson | 7.05 | 10.13 | 12.26 |
| Martin | Trimont | 5.56 | 9.09 | 11.69 |
| Murray | Fulda | 6.87 | 11.20 | 12.58 |
| Murray | Slayton | 7.25 | 10.92 | 12.51 |
| Nobles | Round Lake | 7.38 | 10.76 | 14.64 |
| Nobles | Rushmore | 6.85 | 10.38 | 14.13 |
| Redwood | Redwood Falls | 3.78 | 7.39 | 12.56 |
| Rock | Magnolia | 6.43 | 9.80 | 12.72 |
Charles P. Dewanz
Farm Management Advisor
Real Estate Salesperson
Klay D. Walinga
Vice President
Manager, Farm Services Department
Real Estate Broker
Accredited Farm Manager