Click here to download a printer friendly (pdf) version
CROP AND WEATHER REPORT
For the Monthly Report Ending July 15, 2021
GENERAL COMMENTS & WEATHER: Weather conditions in Southwestern Minnesota (SWMN) continue to be warm and dry. High temperatures over the past month have ranged from 77-94 degrees with lows having the spread of 42-68 degrees. Growing Degree Days through July 12th are 1,217 as compared to the historical 1,148 (Southwestern Minnesota Research and Outreach Center (SWROC) in Lamberton, MN.
Over the past thirty days, the dry conditions have been the main story. Rainfall amounts have been scattered and amounts extremely variable across the area. Rain totals for the past month have ranged from about 1.6 inches (Redwood County) to nearly 7.5 inches (Rock County). Most locations have seen enough moisture for the crop to "hold on" with some pockets receiving heavier amounts than others. Fortunately, most of SWMN received about 0.5 to 1.5 inches of moisture on July 14th. As of July 11th, topsoil moisture in Minnesota is rated at 24% adequate to surplus as compared to 91% last year. Subsoil moisture is estimated to be 74% adequate to surplus as compared to 93% in 2020.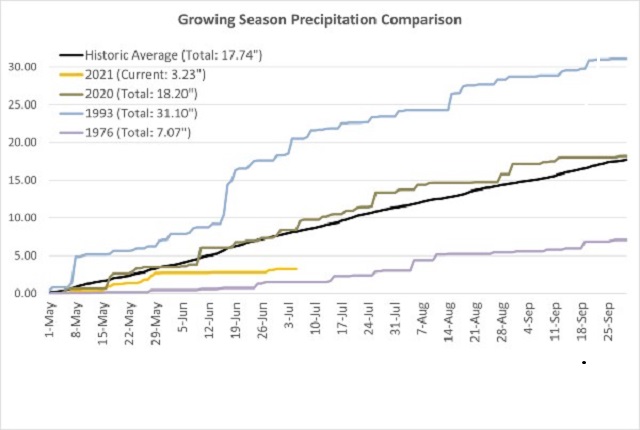 Figure 1– This chart pretty much tells the story to date. Cumulative precipitation since the beginning of the growing season is way behind historical averages at the SWROC. This has led to many of the unique issues that we have experienced this summer due to the drought conditions.
CORN: The corn crop in Minnesota is currently rated 42% good to excellent according to the National Ag Statistics Service (NASS). This is an improvement from last week's 41% rating, but much less than the 85% good to excellent rating at this time last year. Dry conditions have had an impact on the lighter soils causing plant height variation across portions of most field. Farms with heavier soils continue to look good. We are also seeing some yellowing leaves of the corn plants in some fields. This most likely indicates a potassium deficiency due to the dry conditions. Tassels are beginning to appear and the crop is moving towards pollination.
Field operations for corn, for the most part, are complete until harvest begins. A few producers will be applying insecticide and or fungicide to the corn yet this summer. Research into the effectiveness of fungicides and insecticides on corn are mixed. We think more producers will try these applications this year due to the strong commodity prices that we have experienced for this year's crop.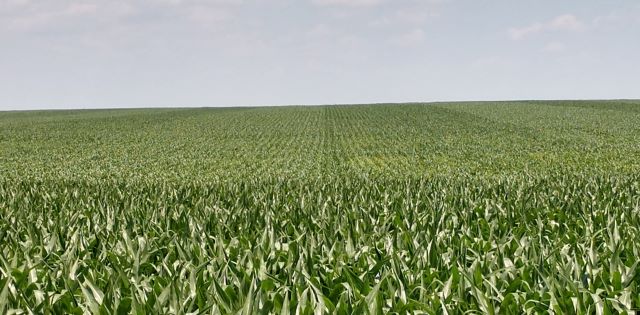 Figure 2 – If you look closely to the right side of the picture, you can see the yellow tinge on the corn leaves. This is potassium deficiency caused by dry conditions. It also appears that some varieties have been more impacted than others.
SOYBEANS: In Minnesota, 45% of the soybeans are rated good to excellent, compared to 44% last week, but it was 83% at this time last year. In Minnesota, 60% of the soybeans are blooming as compared to 38% last week. Generally, area soybean fields look good, although a bit behind in development as compared to last year. Because the soybeans have been slow to canopy this year, weed control has been more difficult. Many producers have applied a second round of herbicide to keep the fields clean and some recently sprayed a 3rd application of herbicide. In a couple of weeks, we will begin to monitor aphid populations and take appropriate action if necessary.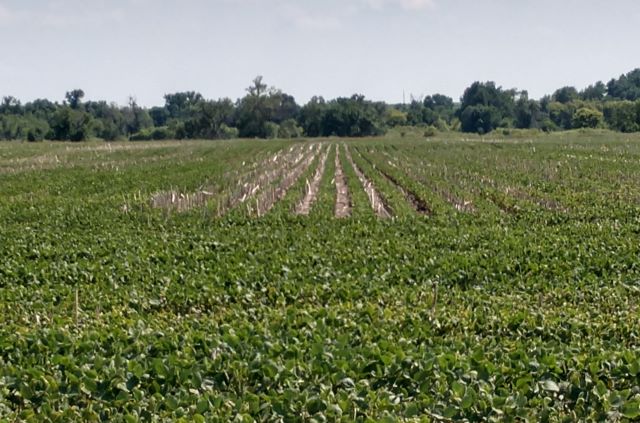 Figure 3 – These are no-till soybeans. The cold spring and heavy corn residue hampered crop development. It is unlikely that these soybeans will canopy, which allows for an increased chance of late season weed pressure between the rows.
REMARKS: Commodity prices continue to be volatile, with some daily movement at or near established trading limits. When it stays dry, the markets go up. When there is widespread rain, the markets go down. The USDA Acreage and Quarterly Grain Stocks report was considered bullish for both corn and soybeans. Although the USDA increased new crop corn acres to 92.7 million acres from 91.1 million acres and new crop soybean acres stayed the same from the report on March 30th, the trade was anticipating more acres for both crops. The quarterly stocks (remaining crop on hand from the 2020 crop) was less than the trade was expecting as well. These figures were positive for corn and soybeans prices at the end of June.
Fast forward to the July Crop Production and World Agricultural Supply and Demand Estimates (WASDE) report released on July 12th, the information was considered a little bearish to the corn market, but neutral for soybeans. Ending stocks increased to 1.432 million bushels (caused by the increased acres from the June 30th report) while yields were left unchanged at 179.5 bushels per acre. Soybean acres and yields were left unchanged at 86.7 million acres and 50.8 bushels per acre, respectively. The market has had a positive response in price since the report was released.
In our geographic area, we do not spend much time thinking about hay and forage, but it is an important crop for many producers. The dry conditions have pushed us into a classic supply and demand situation with hay prices being very strong while supply is restricted. The situation is such that the Farm Service Agency (FSA) will be allowing producers in certain counties to begin cutting and baling forage from land in the Conservation Reserve Program (CRP) in August through September. We will be working with landowners and tenants to determine if/what we might apply to have cut. There is no reduction in CRP payments and it can be utilized to meet mid-contract management requirements and/or woody vegetation control.
We have completed acreage certification with the FSA. Most FSA offices are still closed to the public due to Covid-19 concerns making the process much longer and cumbersome. Crop insurance applications have also been completed. We continue to monitor CRP acres and have been busy with seeding, weed control, removing volunteer trees, and processing payments/cost-sharing information during the past month. A few of our clients have CRP contracts that are renewing and we will be continuing to process that paperwork in late July into early August.
Growing-Degree Days
May 1, 2021 to DATE INDICATED
TOTAL GROWING DEGREE DAYS
DEPARTURE FROM NORMAL
LOCATION
Lamberton
July 12-2021
1,217
+69
Corn Growing Degree Days are calculated by subtracting a 50 degree base temperature from the average of the maximum and minimum temperature for the day. The daily maximum is limited to 86 degrees and the minimum is 50 degrees.
Grain Markets (July 15, 2021)
| | | | | |
| --- | --- | --- | --- | --- |
| | New Vision-Windom | Magnolia | POET Ethanol-Bingham Lake | Minnesota Soybean Processors- Brewster |
| Cash-Corn | 6.34 | 6.36 | 6.48 | N/A |
| Cash-Soybeans | 14.29 | 14.10 | N/A | 14.55 |
| October 2021-Corn | 5.30 | 5.20 | 5.31 | N/A |
| October 2021-Soybeans | 13.26 | 13.27 | N/A | 13.50 |
Rainfall (Inches):
| | | | | |
| --- | --- | --- | --- | --- |
| County | City | May 13 – June 15 2021 | March 15 to date-2021 | March 15 to date-2020 |
| Cottonwood | Jeffers | 2.3 | 6.5 | 12.3 |
| Cottonwood | Windom | 3.1 | 7.6 | 11.1 |
| Jackson | Heron Lake | 5.5 | 11.3 | 13.1 |
| Jackson | Jackson | 2.7 | 8.2 | 12.3 |
| Martin | Trimont | 2.5 | 8.4 | 11.3 |
| Murray | Fulda | 4.6 | 13.2 | 14.2 |
| Murray | Slayton | 3.6 | 9.1 | 14.4 |
| Nobles | Round Lake | 4.5 | 12.2 | 12.8 |
| Nobles | Rushmore | 5.7 | 13.2 | 13.9 |
| Redwood | Redwood Falls | 1.6 | 6.1 | 11.3 |
| Rock | Magnolia | 7.5 | 15.0 | 13.4 |
Charles P. Dewanz
Farm Management Advisor
Real Estate Salesperson