Click here to download a printer friendly (pdf) version
CROP AND WEATHER REPORT
For the Monthly Report Ending May 12, 2023
GENERAL COMMENTS & WEATHER: Welcome to the start of another growing season! Each year is different with its own set of trials and tribulations. That being said, we always seem to make it through to the finish line each year. It is certainly a group effort with our clients, farm operators, crop input vendors & applicators, agronomists, FSA officers, accountants, attorneys, etc. We appreciate the people we work with and look forward to another great year!
SWMN received about 70 inches of snowfall this past winter, which is above average and left us with 3-4 feet of snowpack across most of the region. Temperatures were about 10 degrees below average for the month of March and 4 degrees below for April (Southwestern Minnesota Research & Outreach Center-SWROC), which allowed for a relatively slow snowmelt. The moisture helped replenish the soil moisture and some lakes, streams, and rivers that were so dry at the end of 2022. Unfortunately, the cool temperatures also kept the ground temperature below average. Coupled with a few showers, it delayed the start of the planting season to the end of April, only a few days earlier than last year.
There has been scattered rainfall across SWMN this week. In Windom, there was over 2-inches of rain on Tuesday afternoon and only a few sprinkles 5 miles west of town. Luckily, almost all of the corn has been planted. As far as soybean planting, some producers have not been able to start, many have planted some acres, and a few are completely done. Most of our clients land in Rock and Martin Counties are all planted. There is more rain in the forecast this weekend, but hopefully the rest of the soybeans can be planted in the next 10-14 days.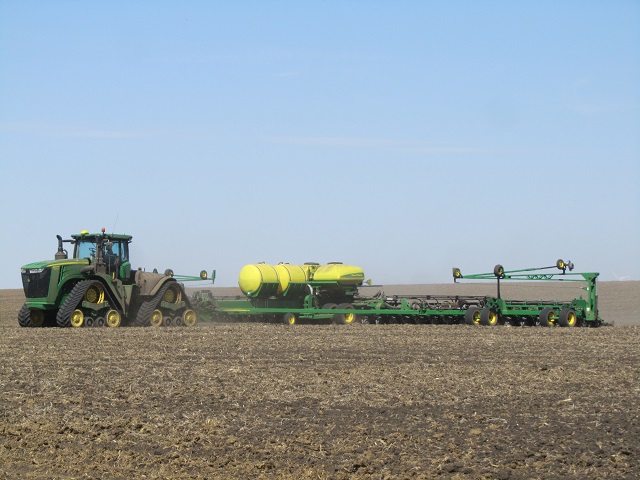 Figure 1 – This is a quad-track tractor pulling a 36-row planter with a center-fill unit (yellow container). At 90 feet wide and driving 6 miles per hour (mph), it can plant 65 acres per hour! Some 24-row planters (60 feet wide) can go 10 mph and plant 75 acres per hour (this does not include the time for end rows or putting seed in the planter).
CORN: The United States Department of Agriculture (USDA) Prospective Planting Report, released on March 31st, indicated that producers intend to plant 92 million acres of corn in the U.S. in 2023, which is up 3.4 million from last year. As of May 7th, about 49% of the projected corn acreage in the U.S. was planted. This was up 28% compared to this time last year and 7% ahead of the 5-year average. In Minnesota, 38% of the intended corn acres were planted, which is 30% higher than last year and near the 5-year average. One thing we are watching is corn emergence. Even though corn acres are ahead of the average planting pace, emergence throughout the U.S. is near the 5-year average. There is very little corn in SWMN that has emerged at this point.
The USDA monthly Supply & Demand Report just released today (5/12) projected that there could be 2.222 billion bushels of U.S. corn ending stocks for the 2023 crop. This is a significant increase from 1.417 billion bushels as estimated for the 2022 crop. Unfortunately, corn prices have dropped significantly in the past 6 weeks. With the increase in corn acres, projected above average national yield (with anticipated switch to El Nino), some cancellations of corn exports by China, and concerns about recessions in 2023, corn prices have dropped from over $7 per bushel to $6.25 per bushel. It seems like the price has dropped more than it should have based upon the current fundamentals, but the outlook is for much higher supply in 2023. We will continue to monitor and sell the balance of the 2022 corn when prices rebound and start making some new crop sales.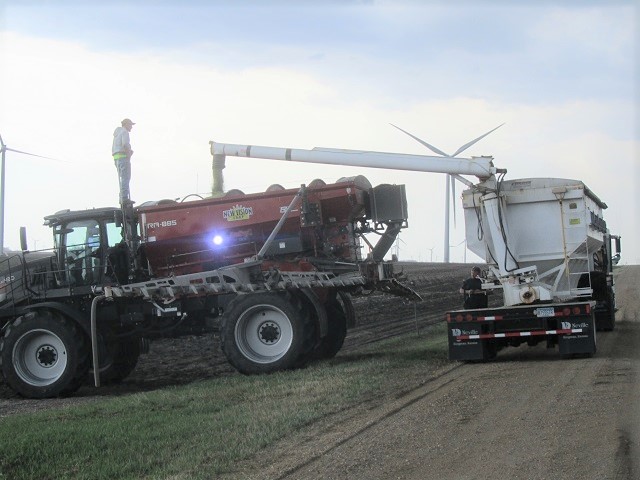 Figure 2 – This applicator is being loaded with fertilizer for a corn field in Jackson County. The tender parks on the road and augers the fertilizer onto the machine. Yes, that is the applicator driver standing on top of the machine stretching his legs and monitor the machine being filled. These applicators put in some long hours in the spring.
SOYBEANS: A few soybeans were planted on our clients' properties at the end of April and more were planted this week, although we probably have more than 50% of the soybeans still left to plant. About 35% of the U.S. soybeans and 13% of the soybeans in Minnesota were planted as of May 7th. In Minnesota, that is 11% more than last year, but still 8% behind the 5-year average.
The USDA Prospective Planting Report estimated that producers in the U.S. intend to plant approximately 87.5 million acres of soybeans in 2023, which would be up slightly from last year. The USDA monthly Supply & Demand Report released today estimated a carryout in the U.S. of 215 million bushels for the 2022 crop and 335 million bushels for the 2023 crop, which is another significant increase in supply. Cash soybeans are currently around $14 per bushel and 2023 soybeans for harvest at about $12.50 per bushel. We will continue to make sales as we hit our price targets.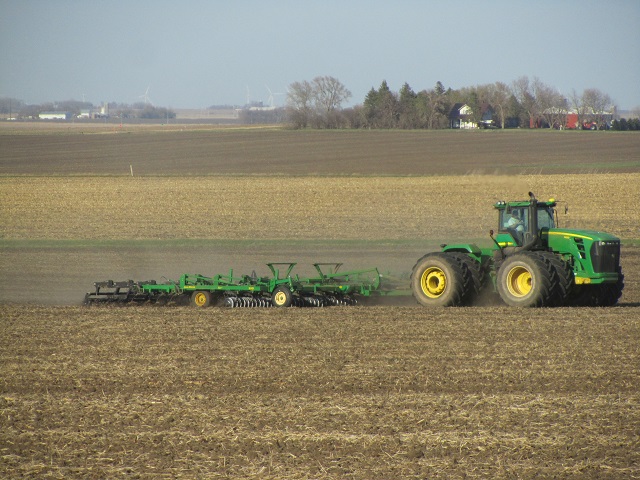 Figure 3 – This is a farmer in Rock County doing some tillage. With the significant amount of snowfall we received this winter, the soil is very mellow and working up nicely.
REMARKS: It is always nice to see a plan come together. We have been working through soil samples results, fertilizer recommendations, prepaying for seed, herbicide, & fertilizer, delivery of these products to the farmers, and then having them applied and seed planted into the ground. In the good old days, it did not take near as much planning and the time was spent on a 4-row planter to plant hundreds of acres in one or two quarter sections of land.
In today's world, farmers have thousands of acres in dozens of fields to plant, so all of the plans, crop inputs, and labor need to be all lined up in order to keep the machinery moving. Many of these tractors have 2-3 different computer screens and are transmitting data on the fly via Global Positioning Systems (GPS). Some of the biggest challenges farmers face is when the machine will not work because of a computer issue versus a mechanical issue. The tech support for running these machines continues to be a critical part of the process.
Crop inputs have been readily available so far with respect to seed, pre-emerge herbicides, and fertilizer. In fact, despite the increase in national corn and soybean acres, fertilizer prices continue to decrease, which will hopefully carry forward to this summer/fall when we start booking and applying fertilizer for the 2024 crop. Most farmers have been able to find parts for their existing machinery, but there is still a backlog of trades to replace/upgrade machinery.
It continues to be interesting times in the world and agriculture is not immune to it. There continues to be inflation and concerns about U.S. and global recessions. Recessions contract the economies and peoples' ability to pay for higher quality food. People drive less, which reduces the demand for ethanol. Geo-politically, China would rather buy soybeans and corn from Brazil and wheat from Russia than from the U.S. Although the war in Ukraine is still an underlying factor, the rest of the world has increased production (supply) to offset the reduction for grain being exported out of Ukraine. That being said, next week could be a critical week for the grain markets, as the deal with Russia to allow grain to be exported from Ukraine out of the Black Sea would need to be renewed by May 18th to allow it to continue. The law of economics still prevail and last year, there was more demand than supply. At this point in 2023, world supplies of grain are increasing and demand is decreasing with concerns about the global economy. Time will tell if all of this supply is real, as we are just planting this crop in the U.S. and it has a long ways to go yet before it is in the bin/elevator.
It has been a busy spring. We processed income tax forms and payments, collected cash rent and made distributions, finalized crop insurance policies, and paid the first half of the 2023 real estate taxes. We are finalizing projections/tax estimates and processing crop input invoices. The Adjusted Gross Income (AGI) forms have been sent out to those of you to make sure that you are eligible for any potential future farm program payments. We have been able to complete some tile projects this spring and have some on the books into this summer and fall. We are also continuing to work on some conservation easements, as well as easements with solar, wind, and carbon pipeline projects.
We are looking forward to another successful cropping season in 2023! We will continue to provide this monthly report to keep you informed about crop production, grain marketing, government programs, land valuation, tax information, and the weather, all with respect to farmland in Southwestern Minnesota.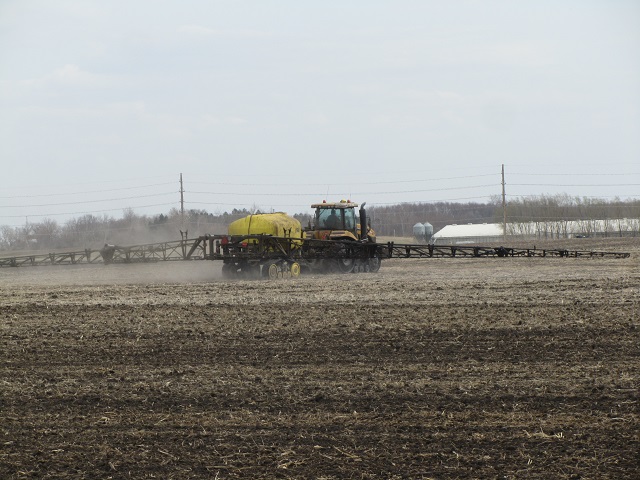 Figure 4 – This sprayer is applying liquid nitrogen just before the field cultivator tills in into the soil. The yellow tank holds about 1500 gallons and the boom is about 120 feet wide. On this unit, both the tractor and the sprayer are on tracks.
Growing-Degree Days
May 1, 2023 to DATE INDICATED
TOTAL GROWING DEGREE DAYS
DEPARTURE FROM NORMAL
LOCATION
Lamberton
May 8, 2023
75
7
Corn Growing Degree Days are calculated by subtracting a 50 degree base temperature from the average of the maximum and minimum temperature for the day. The daily maximum is limited to 86 degrees and the minimum is 50 degrees.
Grain Markets (May 11, 2023)
| | | | | |
| --- | --- | --- | --- | --- |
| | New Vision-Windom | Magnolia | POET Ethanol-Bingham Lake | Minnesota Soybean Processors- Brewster |
| Cash-Corn | 6.24 | 6.59 | 6.22 | N/A |
| Cash-Soybeans | 13.86 | 13.89 | N/A | 14.15 |
| October-Corn | 4.79 | 4.79 | 4.79 | N/A |
| October -Soybeans | 11.84 | 11.84 | N/A | 12.08 |
Rainfall (Inches):
| | | | | |
| --- | --- | --- | --- | --- |
| County | City | April 11 – May 11, 2023 | March 15 to date-2023 | March 15 to date-2022 |
| Cottonwood | Jeffers | 6.0 | 6.6 | 5.5 |
| Cottonwood | Windom | 4.0 | 4.8 | 4.6 |
| Jackson | Heron Lake | 5.6 | 7.3 | 6.2 |
| Jackson | Jackson | 2.5 | 3.3 | 4.4 |
| Martin | Trimont | 4.1 | 5.1 | 5.8 |
| Murray | Fulda | 4.3 | 5.3 | 5.1 |
| Murray | Slayton | 1.9 | 3.1 | 6.2 |
| Nobles | Round Lake | 3.9 | 5.0 | 4.9 |
| Nobles | Rushmore | 2.6 | 3.7 | 5.0 |
| Redwood | Redwood Falls | 5.6 | 6.6 | 5.4 |
| Rock | Magnolia | 2.7 | 3.6 | 4.7 |
Klay Walinga
President
Manager, Farm Service Department
Real Estate Broker
Accredited Farm Manager